The margins in a document might seem like something that is unimportant however, for some schools and organizations, it can be an important formatting element that must be the same for every document you create. These margins, combined with other settings like the font size, will often need to adhere to a strict set of standards.
Google Docs has its own default margins but, if they are different than what you need for your own documents, then the process of changing them each time can be a little tedious. Fortunately Google Docs provides you with a way to change the default margins so that all your future documents use the margins that you need.
Changing Default Margins in Google Docs
The steps in this article were performed in the desktop version of Google Chrome, but will also work in other desktop browsers like Firefox and Edge.
Does your document have a lot of formatting that you need to change? Learn how to quickly remove formatting from a selection if you would rather not remove each setting individually.
Step 1: Sign into your Google Drive at https://drive.google.com and open a document.
Step 2: Select the File tab at the top-left of the window.
Step 3: Choose the Page Setup option at the bottom of the menu.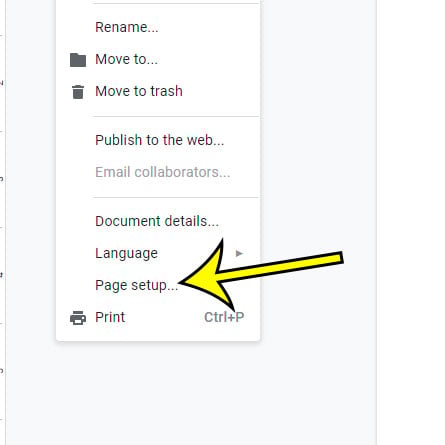 Step 4: Change the values in the margin fields to the desired amount, click the Set as default button at the bottom-left of the window, then click the OK button.
Would you like to add a clickable link to your document so that your readers can visit a specific Web page? Learn how to add a hyperlink in Google Docs and turn some of your text into a clickable link.