If you are creating a document for school or for work, then it's likely that there are some formatting requirements that you need to follow.
These could include things like page numbers and fonts, but they might also include specific sizing for your page margins.
The steps in this article are going to show you how to change margins in Google Docs from the Page Setup menu.
We will go over the steps briefly at the start of the article, then we will continue with additional information and pictures for each of the steps.
How to Use the Google Docs One Inch Margin Setting
Sign into Google Drive and open an existing Google Docs file or create a new document.
Select the File tab at the top-left of the window.
Choose the Page setup option at the bottom of the menu.
Set margins by changing the values in each of the margin fields to 1.
Click the OK button to apply the change.
Our guide continues below with additional information on the 1 inch margin Google Docs option, including pictures of these steps.
Related Article: Our article on how to switch columns in Google Docs can provide you with additional information on how to adjust the layout of your document.
Word processing applications like Microsoft Word and Google Docs provide you with many ways to format your document.
Whether you need to use a specific font or a particular type of indent, there is probably a setting that you can change to make that adjustment.
One setting that you may need to apply is a 1 inch margin.
This is a common requirement for many institutions, as a common margin size can make it easier for a teacher or supervisor to write notes, while also ensuring that page length requirements aren't being manipulated.
Did you forget to include a section in a document? Find out how to add a new page on Google Docs while doing only a minimal amount of editing.
How to Set 1 Inch Top, Bottom, Left and Right Margins in Google Docs
The steps in this article were performed in the desktop version of the Google Chrome Web browser, but will also work in other desktop browsers like Mozilla Firefox or Microsoft Edge.
Step 1: Sign into your Google Drive at https://drive.google.com and either open an existing Google Docs document, or click the New button and create a new document.
If you aren't signed into your Google Account then you will be prompted to do so.
Step 2: Click the File tab at the top-left of the window, under the document name.
You can click on the document name if you would like to change it to something else.
Step 3: Select the Page setup option at the bottom of the menu, which is going to open a new Page setup window.
This drop down menu also has a "Download" option that you can use to convert your Google Docs files to other file formats.
Step 4: Set the value for the top margin, bottom margin, left margin, and right margin to 1.
This menu also has options for Orientation, Paper size, and Page color.
Step 5: Click the OK button to set your page margins.
The margins for the current document will now be set to 1 inch on each side of the page.
You may notice that there is a Set as default button at the bottom-left of this menu.
If you would like your default margins to be 1 inch for all future documents that you create in Google Docs, then you may want to click that button to apply the setting.
The margins of your document are the white space around the edge of the page. This includes the area at the top of the page, which is also known as the header. If you have information in that location, such as a page number, then its location may be affected if you adjust the size of your document margins.
Another Way to Make 1 Inch Margins in Google Docs
There is another method that you can use to adjust the page margins for your document.
Simply place your mouse cursor at the left, right, top or bottom of the rulers on the edges of the document until the cursor changes to a line with an arrow on each end, then click and drag to adjust the margin size.
I have placed my cursor in the correct location to adjust the left margin in the image below.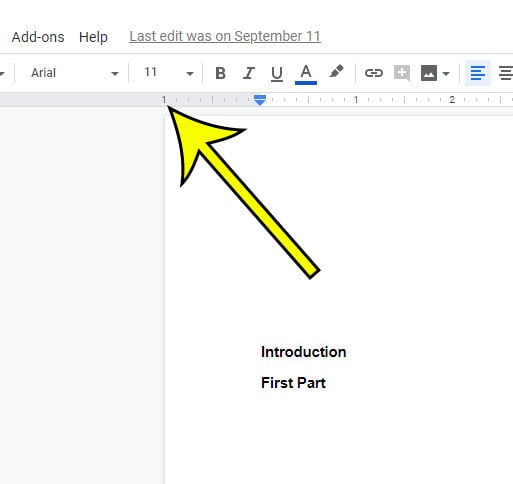 Depending on your document editing preferences, this may be more comfortable method of setting one inch margins.
Frequently Asked Questions About the 1 Inch Margin Google Docs Setting
How do I open the Page setup dialog box in the Google Docs app?
While you can adjust the left and right margins as well as the top and bottom margins in Google Docs on a computer by going to File > Page setup, that won't work on an iPhone or Android device.

You will need to open your document in the Docs app, then tap the three dots at the upper right corner of the screen.

There you can select Page setup, which you can open and choose the Margins option there.

You can then choose from the Google Docs margins options listed there, which include:

– Narrow – this uses half inch margins for the entire document
– Default – this uses 1 inch margins for the entire document
– Wide – this uses 1 inch margins on the top and bottom, but 2 inch margins on the left and right
– Custom – you can choose your own column sizes here
Will my document's margins update automatically when I make these changes?
Yes, when you set one inch margins on your document, or use any other margin measurements on an existing or blank document, then Google Docs will adjust margins immediately.

Note that adjusting margins, especially all four margins, can cause the same document to increase its printed page count.

After setting new margins it's always a good idea to do a quick check over the document to ensure that you haven't affected any page elements, or made the document page count too high or too low.
Can I change column margins in Google Docs?
Yes, you access Google Docs column spacing by going to Format > Columns > More options > then changing the setting in the Spacing field.

the left side and the right side of the page will still be affected by the margin options on the Page setup menu, as those affect the entire page regardless of the number of columns.
Find out how to do a grammar check in Google Docs if you want to make sure that you aren't making any serious errors in your document content.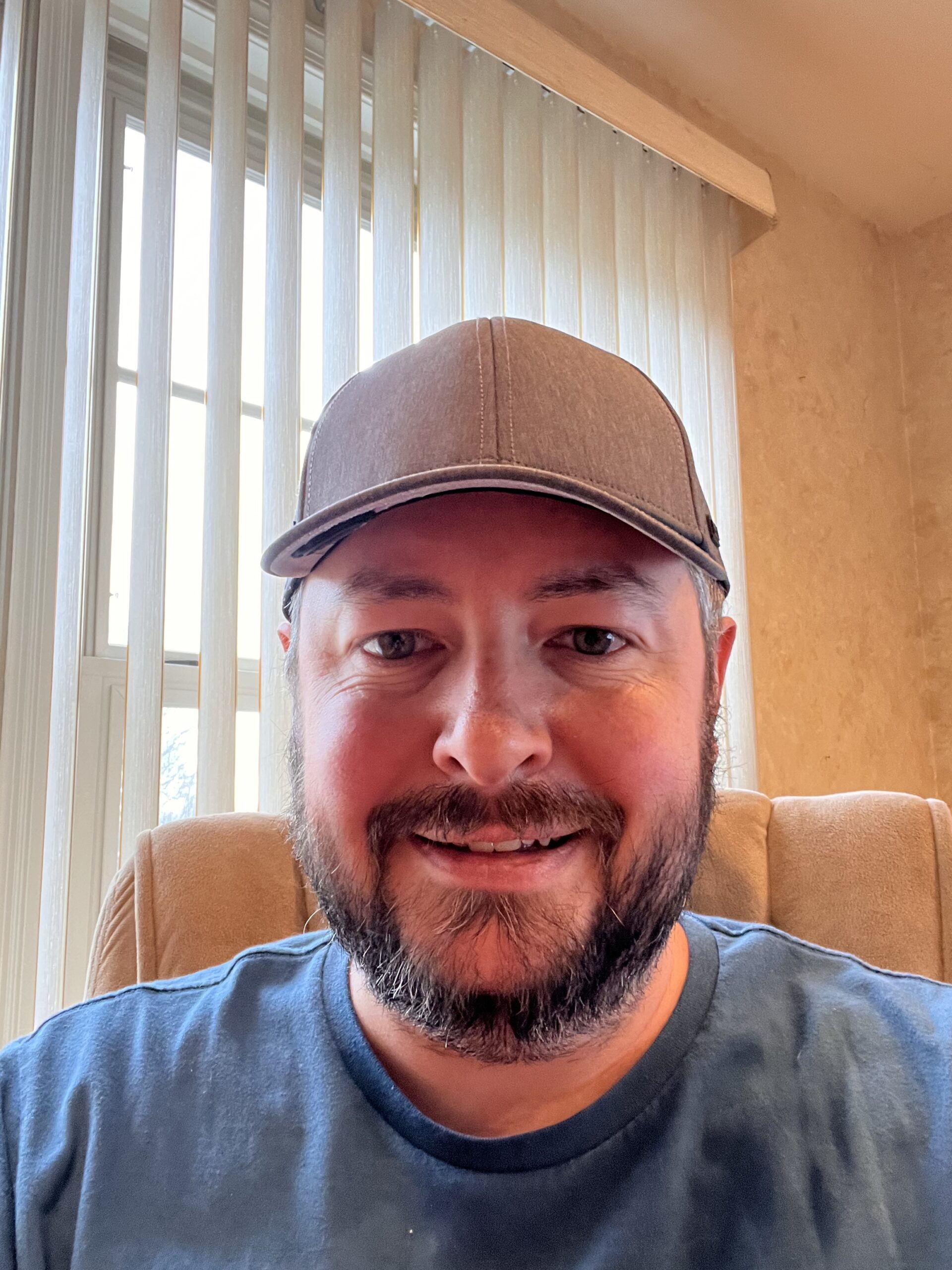 Kermit Matthews is a freelance writer based in Philadelphia, Pennsylvania with more than a decade of experience writing technology guides. He has a Bachelor's and Master's degree in Computer Science and has spent much of his professional career in IT management.
He specializes in writing content about iPhones, Android devices, Microsoft Office, and many other popular applications and devices.