When you type new content into a document in Google Docs, it will use the font that is currently set as the default.
You can change the font for existing text by selecting it, then choosing the desired font. This same method works for other types of formatting, too, such as text color, font size, and more.
But if your entire document is in the wrong font, then prospect of manually selecting all of that content may be unwelcome, and doing it can be tedious and frustrating.
Fortunately there is a quick way to select all of the text in a document, then you can change the font for that text all at once.
How to Change the Font for a Selection in Google Docs
The steps in this guide were performed in the desktop version of the Google Chrome Web browser, but will work in other desktop browsers like Safari and Firefox as well.
Step 1: Sign into Google Drive and open the document.
Step 2: Click inside the body of the document, then press Ctrl + A (Windows) or Command + A (Mac.)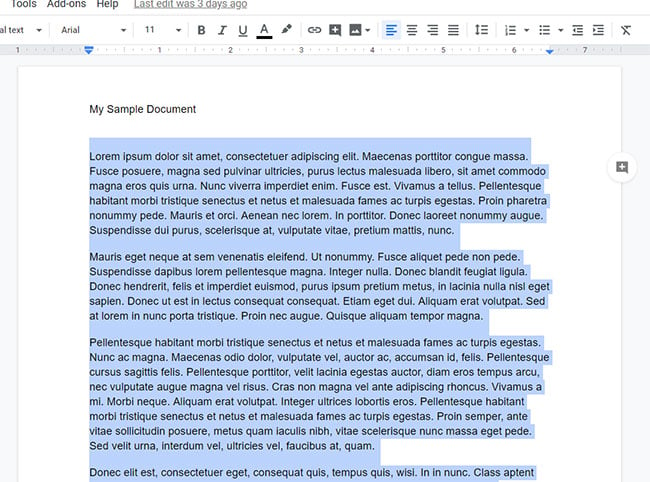 Step 3: Click the Font button in the toolbar, then choose the desired font.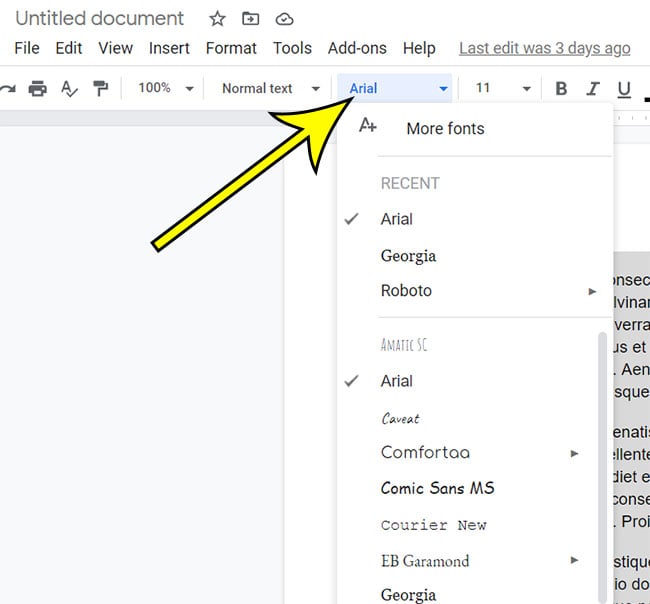 You can also select the entire document by clicking Edit at the top of the window, then choosing Select all.
Note that this will not affect the color or the size of the existing font. If you would like to change those formatting properties as well, simply select the desired value while the text is still selected.
There isn't a way to select the body, header, and footer at the same time. If you would like to change the font for the header or footer you will need to double-click in that area of the document, press Ctrl + A or Command + A to select everything in that section, then change the font.
Additional Reading