One of the formatting options for your document in Google Docs is the number of columns into which the document is divided. This can be either one column (the default option), two columns, or three columns.
Occasionally you might not be sure which option is best for your document, or you may have received a document from someone else that contained 2 or 3 columns, but should really only have 1 or 2. Our tutorial below will show you how to remove a column or columns from your Google Docs document.
How to Reduce the Number of Columns in Your Google Docs Document
The steps in this article assume that you currently have a Google Docs document with at least two columns, and that you would like to reduce that number of columns. Note that changing the number of columns will move around document elements, so it's always a good idea to go back and proofread after changing the number of columns to ensure that everything looks correct.
Step 1: Sign into your Google Drive at https://drive.google.com/drive/my-drive and double-click the document for which you would like to reduce the number of columns.
Step 2: Choose the Format tab at the top of the window.
Step 3: Select the Columns option, then click the icon that represents the number of columns you want in your document.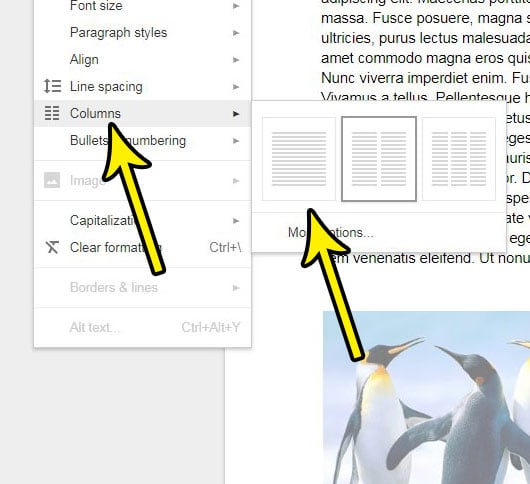 Does your document have some unwanted formatting that you are having trouble removing? Find out how to clear formatting in Google Docs using a tool that will let you select any part of your document and remove formatting from it.