Are you trying to make some edits to a spreadsheet that you have in Google Sheets, but you either don't see the menus at the top of the screen, or the toolbar above the spreadsheet is grayed out?
Luckily this isn't cause to panic, as you can get those items back to the state to which you are accustomed. Our article below will show you how to resolve the problem when one of those items isn't visible on the screen or accessible in Google Sheets.
How to Restore the Menus at the Top of the Screen in Google Sheets
The steps in this article were performed in the desktop version of the Google Chrome Web browser, but will also work in other desktop browsers like Firefox or Edge.
This section will focus specifically on how to restore the menus at the top of the screen. These menus say things like File, Edit, View, Format, etc. and show all of the different editing and formatting tools that you likely use when you are creating your spreadsheets.
Step 1: Sign into your Google Drive at https://drive.google.com and open a Google Sheets file.
Step 2: Click the small downward-facing arrow at the top-right of the window to display the menus.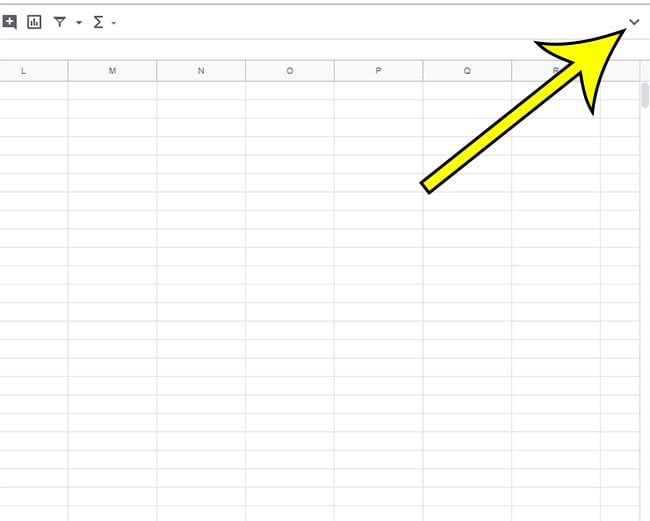 Note that you can also use the keyboard shortcut Ctrl + Shift + F to perform this action.
The next section of this article will show you what to do when the toolbar that appears directly above the spreadsheet isn't accessible.
How to Access the Toolbar in Google Sheets
Above the cells of your spreadsheet is a toolbar that provides convenient access to a number of formatting options and some tools like the Hyperlink tool and the Functions tool.
If this toolbar is grayed out then you won't be able to use any of those tools, or perform any kind of edits to the sheet. This is because someone else has shared the file with you, and you don't have permission to edit it.
As the owner of a spreadsheet you can change that file's permissions with the following steps.
Step 1: Click the Data tab at the top of the window.
Step 2: Select the Protected sheets and ranges option.
Step 3: Select the sheet or range from the column at the right side of the window.
Step 4: Click the Change permissions button.
Step 5: Add or remove permissions for someone, then click the Done button.
Find out how to send your Google Sheets file as a PDF if you would like to share it with someone that either doesn't have Google Sheets, or prefers to view their files as PDFs.