Sometimes when you are placing a picture into a slideshow, that picture is completely ready for the presentation. It's already been edited in a different image-editing program, or the picture was created expressly for the presentation, and therefore requires no edits.
But we aren't always that lucky, and it's quite common that a picture you want to use on one of your slides needs some sort of adjustment before it looks the way that you want it to look. Google Slides has some image-editing tools for the pictures that you add to your slides, and one of those tools lets you increase the transparency of the image. You can continue reading below to see how you can make a picture transparent in your presentation.
How to Make a Picture Transparent in Google Slides
The steps in this article were performed in the desktop version of Google Chrome. This guide assumes that you already have a picture in your presentation, and that you want to make it transparent. This will allow you to see the presentation elements on the layers below the picture. For example, if you have a theme with a background, you will be able to see the background through the picture.
Step 1: Sign into your Google Drive and open the Slides file that contains the picture you want to make transparent.
Step 2: Right-click the picture, then choose the Format options button.
Step 3: Click the arrow to the left of Adjustments.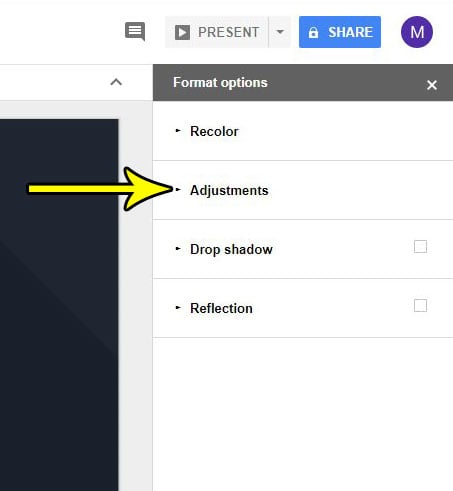 Step 4: Drag the slider under Transparency to the right to increase transparency in the image, or drag it to the left to reduce transparency.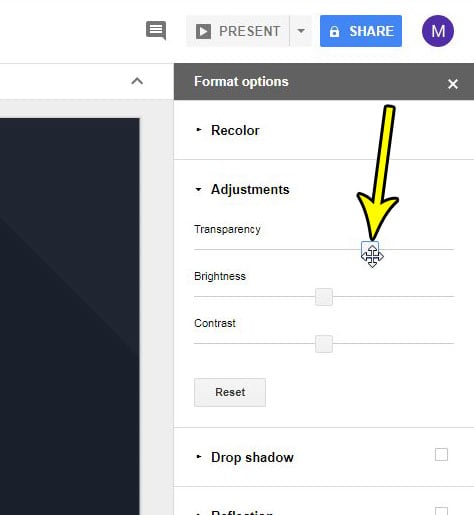 Does your Google Slides presentation have a slide that you don't need anymore? Find out how to delete an entire slide in Google Slides so that it's no longer a part of the slideshow.