Using a different search engine than usual can be disorienting.
If you frequently search for things in Google or Bing, the layout of the search results and the types of results you see become second nature.
Our guide will show you how to change the iOS default search engine in the Safari iPhone app to the search engine of your choice.
You can also check out this video on YouTube about changing the Safari default search engine.
How to Change the Default Search Engine in Safari
Go to the Settings menu.
Choose the Safari option.
Choose Search Engine from the menu.
Pick your favorite search engine.
Our explanation continues below with more information, including screenshots, on how to change the default search engine in Safari on an iPhone.
The address bar at the top of a Safari tab also functions as a search field on your iPhone. If you enter a search phrase into that field, it will launch a search engine. But, if you dislike the search engine it employs, you may be seeking a means to replace it.
With Safari, iOS gives you four alternative options for the default search engine. You can use Google, Yahoo, Bing, Ecosia, or DuckDuckGo. Our instructions below will show you how to locate this setting and indicate which of those search engines you want to make Safari's default.
Related: This guide about how to enable Javascript can show you where to find and adjust that setting on your iPhone if you need to.
How to Change the Default Safari Search Engine (Guide with Pictures)
The procedures in this post were carried out using an iPhone 13 running the iOS 16 operating system. These methods are also applicable to other iPhone models running most of the recent versions of iOS.
It should be noted that this just modifies Safari's default search engine. You can still use the other search engines; you just need to go directly to them, like google.com or bing.com.
This is true for searches performed using the search bar at the top of a tab. If you utilize Spotlight Search, your iPhone will still use Bing.
Furthermore, any other browsers you have installed on your device, such as Chrome, will have their own default search engine settings.
Step 1: Choose the Settings option.
Step 2: Scroll down and select Safari.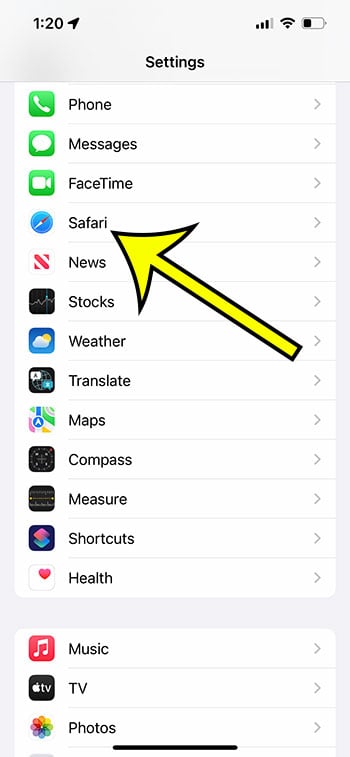 Step 3: At the top of the screen, tap the Search Engine button.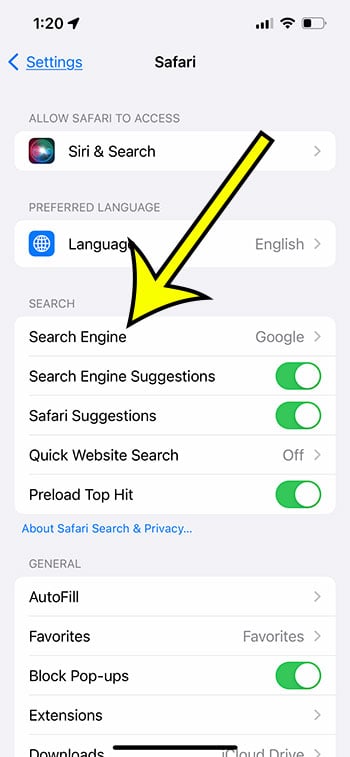 Step 4: Choose the search engine you want to use as your default.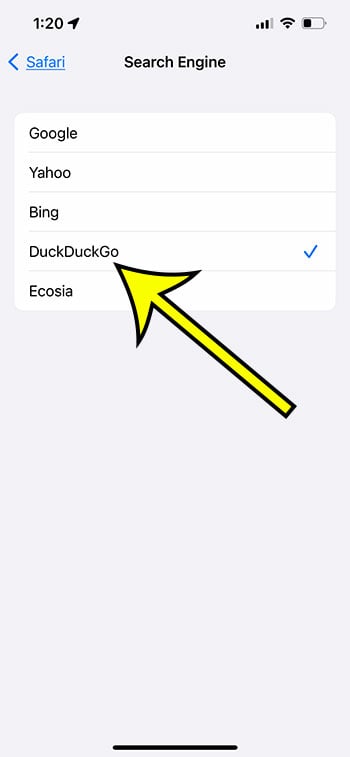 You won't have to put up with a search engine you don't like anymore now that you know how to change the default iOS Safari search engine on your iPhone.
It is important to note that this will not impact the search engine utilized by any other Web browsers on your iPhone, such as Chrome or Firefox.
On iOS 16, you have the following options for your default Safari search engine:
Google
Yahoo
Bing
DuckDuckGo
Ecosia
Do you enjoy using private browsing on your desktop browser and are looking for a similar feature on your iPhone?
Discover how to use private surfing in the Safari browser on your iPhone so that the device does not remember your activities.
Matthew Burleigh is the head writer at solveyourtech.com, where he covers topics like the iPhone, Microsoft Office, and Google apps. He has a Bachelor's and Master's degree in Computer Science and has over 15 years of IT experience.
He has been writing online since 2008 and has published thousands of articles that have been read millions of times.