The ability to cancel noise around you when you are using your phone can be very useful.
You might have looked into getting some wireless headphones, such as the Apple Airpods Pro, but the idea of using headphones all the time when making calls might not be what you want.
You can enable noise canceling on an iPhone 7 by going to Settings > Accessibility > Audio/Visual > and turning the Phone Noise Cancellation Option on or off.
Do you often struggle to hear the caller on the other end of the line when you are listening to a phone call on your iPhone? This may be due to ambient noise that is playing through the receiver and is preventing you from hearing the person to whom you are speaking?
Fortunately, the iPhone has a setting that can help alleviate this problem by actively reducing the amount of ambient noise that comes through the phone. Our guide below will show you how to enable phone noise cancellation on your iPhone so that you can see if it helps to improve your phone call experience on the device.
How to Enable Phone Noise Cancellation on an iPhone 7
Open Settings.
Choose Accessibility.
Select Audio/Visual.
Tap the Phone Noise Cancellation button.
Our guide continues below with additional information on the iPhone 7 noise cancellation feature, including steps on how to perform these actions in older versions of iOS.
How to Turn on Phone Noise Cancellation in iOS 10 (Guide with Pictures)
The steps in this article were performed on an iPhone 7 Plus in iOS 10.3.3. These steps are going to activate a setting that reduces ambient noise on phone calls when the phone is held up to your ear.
Step 1: Open the Settings app.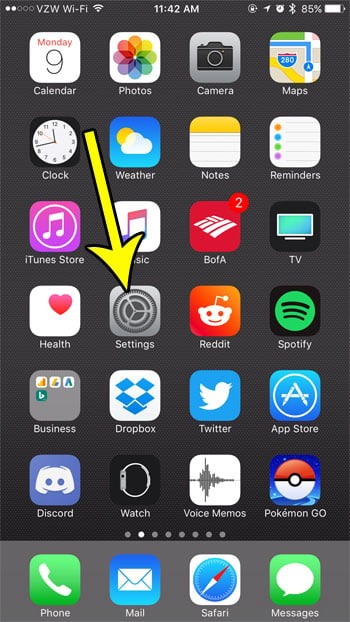 Step 2: Scroll down and select the General option.
Step 3: Touch the Accessibility button.
Step 4: Scroll down and tap the button to the right of Phone Noise Cancellation to turn it on.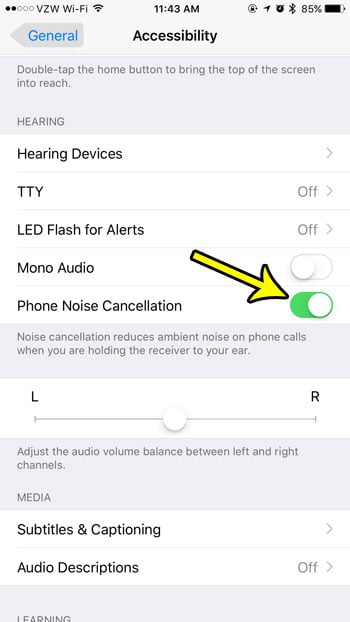 Our tutorial continues below with additional discussion on where to find and change the setting that controls noise cancellation on the iPhone.
More Information on How to Turn on the Noise Cancellation Setting on an iPhone
Note that many newer versions of the iPhone no longer have this feature. For example, you can still find noise cancellation on the iPhone 7 even if you have updated to iOS 15, but you won't find it on an iPhone 13.
If you do have the Airpods pro and want to use the noise cancellation feature then you can go to Setting s> Bluetooth and tap on the i button next to the Airpods. There you will see a "Noise Control" section where you will be able to use the Noise Cancellation option.
Note that the noise cancellation feature is only available on the Airpods Pro. It is not offered on the regular Airpods.
One of the reasons that iPhone users may want to use noise cancelation is that the sound quality and ambient background noise can make it difficult to have conversations. However, the noise cancellation feature uses its own background noise to filter out external sounds, and it can result in surprisingly quiet phone conversations and other issues with call quality that might make your noise cancellation calls actually worse than the calls that didn't use it.
Are you running out of room on your iPhone to install new apps, up to download new iOS updates? Learn how to free up some storage space on your iPhone by getting rid of old apps and files that you don't need or use anymore.
Additional Reading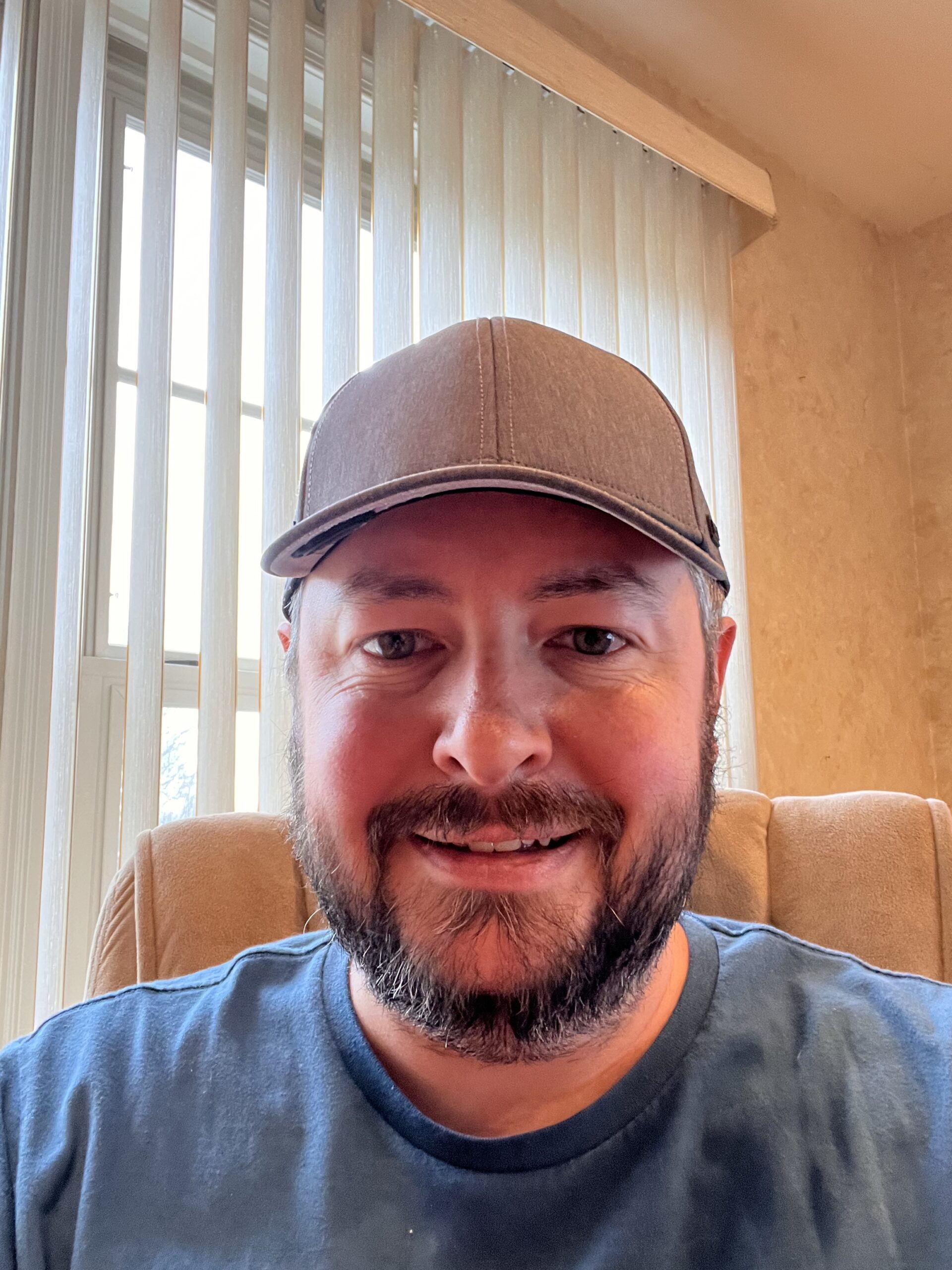 Kermit Matthews is a freelance writer based in Philadelphia, Pennsylvania with more than a decade of experience writing technology guides. He has a Bachelor's and Master's degree in Computer Science and has spent much of his professional career in IT management.
He specializes in writing content about iPhones, Android devices, Microsoft Office, and many other popular applications and devices.