Microsoft Powerpoint has many features that can help you give the best possible presentation.
Aside from all of the various editing and formatting options, you can also adjust items that involve giving the actual presentation.
Our tutorial below will show you how to turn off narrations in Powerpoint 2013 if you don't need them as part of the current slideshow.
How to Disable the Powerpoint Narration Option
Open your Powerpoint file.
Choose the Slide Show tab.
Click the Play Narrations box to remove the check mark.
Our guide continues below with additional information on how to turn off narrations in Powerpoint 2013, including pictures of these steps.
Narrations in a Powerpoint presentation afford you the ability to create a complete presentation that includes your audio dialogue to accompany the visual aid that is your slides.
This lets you craft the perfect, complete presentation that you can either play for an audience, or distribute to others as a single digital file.
But occasionally, you might need to give a version of the presentation for which the existing narrations are either not appropriate, useful, or correct.
Fortunately, you have control over whether or not the narrations play in your presentation.
Our guide below will show you how to stop those narrations from playing in your Powerpoint 2013 presentation if you don't need or want them.
How to Stop Playing Narrations During a Slide Show in Powerpoint 2013 (Guide with Pictures)
The steps in this guide are going to show you how to stop a presentation's narrations from playing. Note that this is not going to delete or remove the narrations from the presentation, so you will be able to save them for later. However, it will prevent them from playing until you re-enable this setting.
Click here if you need to add some common symbols to one of your slide's text boxes but haven't been able to find the menu where they are located.
Step 1: Open your presentation in Powerpoint 2013.
Step 2: Click the Slide Show tab at the top of the window.
Step 3: Click the box to the left of Play Narrations to remove the check mark.
Once there is no check mark in that box, your presentation's narrations will not play. I have disabled narrations in the image below.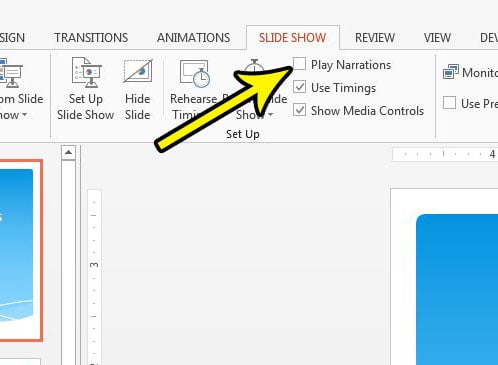 Now that you know how to turn off narrations in Powerpoint 2013, you will be able to toggle this setting on or off whenever you need it, based on what the current presentation requires.
Does your presentation involve a lot of speaker's notes, and you would like to be able to print them along with your slides as an aid for when you give the presentation? Learn how to print notes along with your Powerpoint presentation so that you have a working copy of the presentation that you can work from.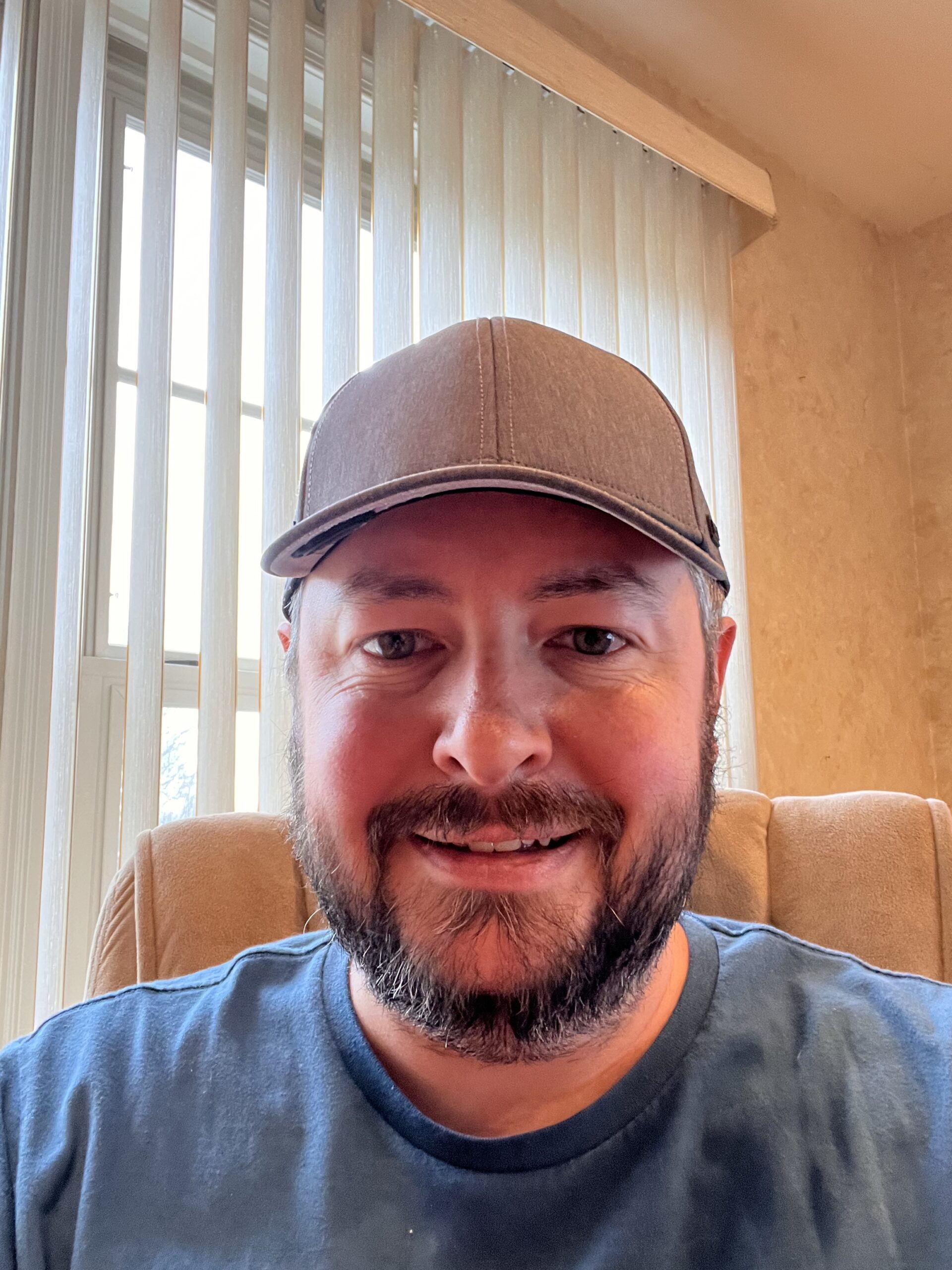 Kermit Matthews is a freelance writer based in Philadelphia, Pennsylvania with more than a decade of experience writing technology guides. He has a Bachelor's and Master's degree in Computer Science and has spent much of his professional career in IT management.
He specializes in writing content about iPhones, Android devices, Microsoft Office, and many other popular applications and devices.