Commenting is a critical part of any group collaboration, particularly in a digital environment where everyone can't communicate in person.
Microsoft Powerpoint includes some commenting options that you can use to add your comments to a slide.
Our tutorial below will show you how to add a comment to a slideshow in Powerpoint 2013 with just a couple of steps.
How to Create a Comment for a Slide in Microsoft Powerpoint
Open the presentation.
Select the slide.
Choose the Review tab.
Click New Comment.
Type the comment and press Enter.
Our guide continues below with additional information on how to add a comment to a slideshow in Powerpoint 2013, including pictures of these steps.
Powerpoint presentations are often created by groups, whether it's for a group project at school, or it's a team endeavor at your job.
While collaborating in person can be an effective way to create the presentation, it may not always be practical. Therefore you will need to work on the file together, which can be difficult to manage as people make edits and updates.
One way to manage this is through comments. You are able to create and insert comments in a presentation in Powerpoint 2013.
Editors of that presentation can then view and reply to these comments, which provides an effective way to work on a slide show together.
Our article below will show you how to make a comment in Powerpoint 2013.
How to Comment in Powerpoint 2013 (Guide with Pictures)
The steps in this article are going to show you how to insert a comment into a slide on a Powerpoint presentation.
The comments in Powerpoint 2013 will then be shown in a column at the right side of the program window.
Collaborators on the presentation will be able to view, reply, and delete comments from this column as needed.
Step 1: Open the slideshow in Powerpoint 2013.
Step 2: Select the slide on which you would like to comment from the column at the left side of the window.
Step 3: Click the Review tab at the top of the window.
Step 4: Click the New Comment button in the Comments section of the ribbon.
This will open the Comments column at the right side of the Powerpoint window.
Step 5: Type your comment into the field under your name, then press Enter on your keyboard.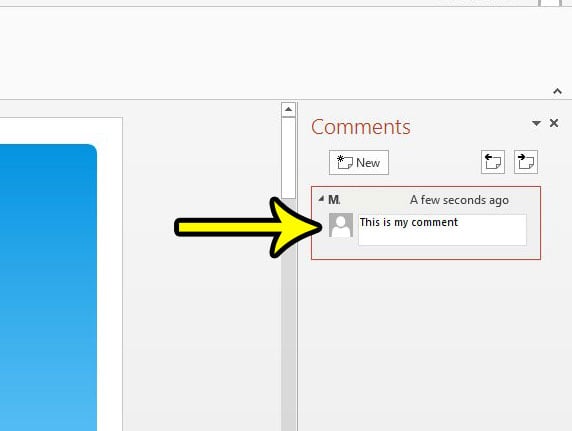 Note that you will be able to identify a slide in a presentation that contains a comment by the speech bubble at the top-left corner of that slide.
That speech bubble is visible when you are editing the presentation, but will not display when you are showing the presentation in Slide Show mode.
Now that you know how to add a comment to a presentation in Powerpoint, you will be able to use this opito whenever you are working on a slideshow with a group of people.
Comments are different from the speaker notes that you might include to help you when giving your presentation. If you would like to print the notes along with your slideshow, then this article will show you how to do that.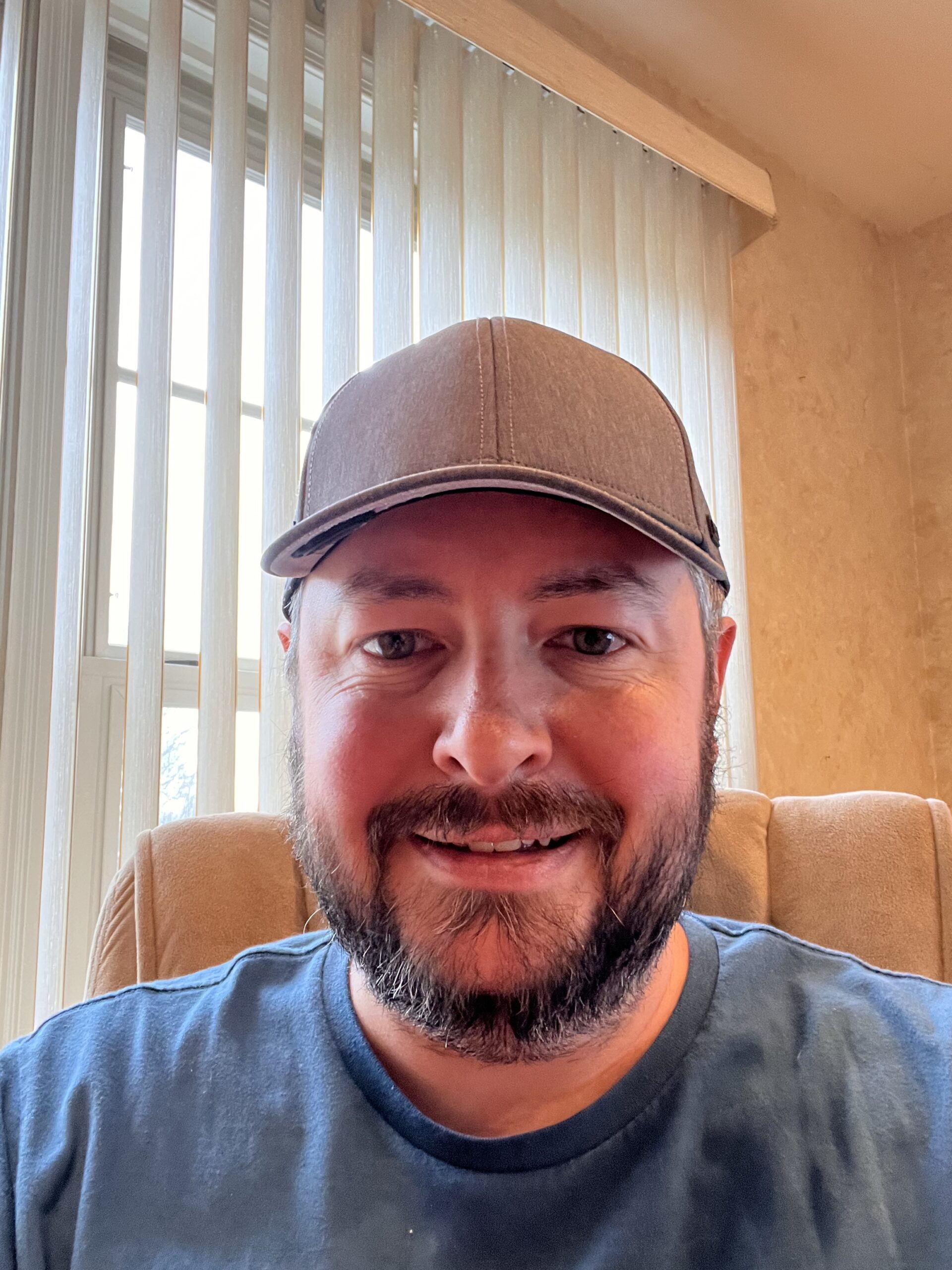 Kermit Matthews is a freelance writer based in Philadelphia, Pennsylvania with more than a decade of experience writing technology guides. He has a Bachelor's and Master's degree in Computer Science and has spent much of his professional career in IT management.
He specializes in writing content about iPhones, Android devices, Microsoft Office, and many other popular applications and devices.