Having access to the Internet on your iPhone 13 will require you to either have a Wi-Fi or a cellular data connection.
If you are on a cellular network and you use data, then it will either count against your monthly data allotment, or you will be paying overage charges if you have already used too much data.
But the rules are a little different if you're roaming and not on your cellular provider's network. This is a very common situation if you visit another country.
Our tutorial below will show you how to adjust the iPhone 13 data roaming setting once you have decided whether or not you would like to use that type of data while you are outside of your normal coverage radius.
For additional information, you can check out this data roaming iPhone 13 video on YouTube.
How to Enable or Disable iPhone 13 Data Roaming
The steps in this section were performed on an iPhone 13 in the iOS 16.4 operating system.
Step 1: Open the Settings app on the device.
Step 2: Choose the Cellular option near the top of the menu.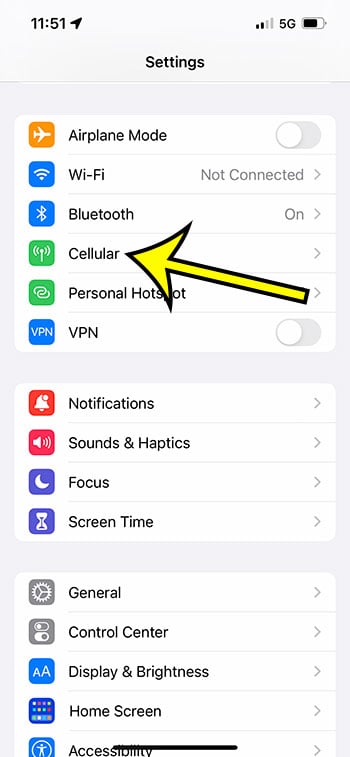 Step 3: Select the Cellular Data Options button.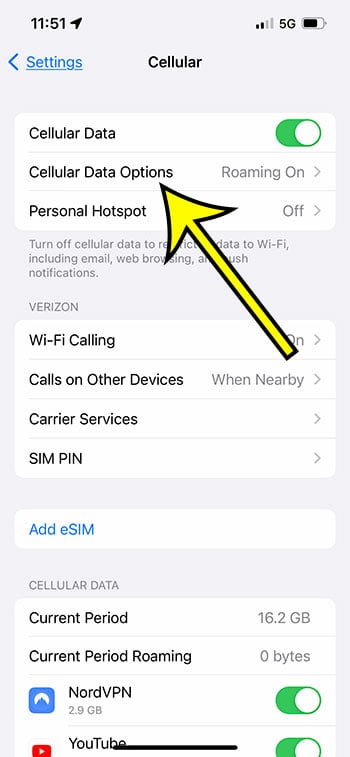 Step 4: Tap the button to the right of Data Roaming to turn it on or off.
Roaming is turned off on your iPhone 13 when there is no green shading around the button. I have data roaming turned off in the picture below.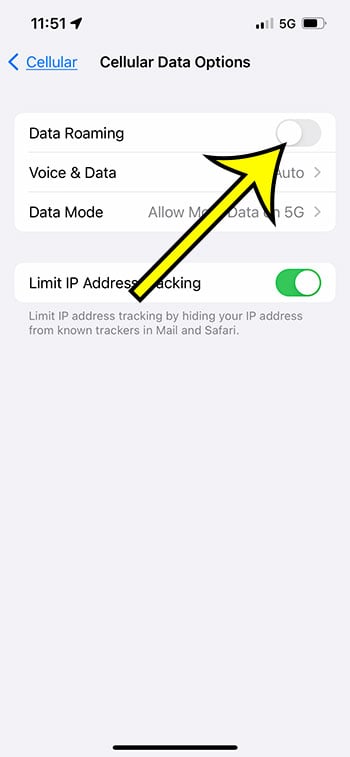 Now that you know how to change the data roaming iPhone 13 option, you will be able ot make sure that it's turned on or off based on whether or not you want to use that (typically) more expensive data.
How to Change the Data Roaming Setting on iPhone 13 – Summary
Tap Settings.
Select Cellular.
Choose Cellular Data Options.
Tap the Data Roaming button.
Unless you aren't concerned about data roaming charges, or you aren't planning to go to another country anytime soon, then you can leave this turned on with little repercussion.
But if your cellular or mobile data plan has some high costs for roaming data, and ou travel internationally on a regular basis, then it's probably a good idea to keep data roaming turned off, and only turn it on when you actually need it.
Note that a lot of apps use data that you may not realize, and many of these apps are really helpful when you are in a foreign country. These are just some of the apps that need a data connection:
So if you are worried about roaming charges and you think that you might need to use apps like this on a cellular network while you travel, then you might want to do some investigating ahead of time.
Many mobile providers have some options available to you that allow you to use cellular data while roaming at a much lower cost.
For example, Verizon has something called "TravelPass" that offers cheap international data, while AT&T has a feature called "International Day Pass."
Matthew Burleigh is the head writer at solveyourtech.com, where he covers topics like the iPhone, Microsoft Office, and Google apps. He has a Bachelor's and Master's degree in Computer Science and has over 15 years of IT experience.
He has been writing online since 2008 and has published thousands of articles that have been read millions of times.