When you spend much of your day with your Gmail inbox open on your desktop or laptop computer, the way that that inbox looks can become more and more important. There are several view settings that you can adjust in Gmail, including one that controls the display of the reading pane.
The Gmail reading pane is the section of the inbox that displays an email when you select it. This reading pane can appear at the bottom of the inbox, to the right of it, or you can elect not to use it at all. Our tutorial below will show you how to remove the reading pane in Gmail if you have one and would prefer not to use it.
How to Turn Off Horizontal Split in Gmail
The steps in this article were performed in Google Chrome, but will also work in other desktop Web browsers like Firefox and Edge. This guide assumes that you currently have a preview section at the bottom of your Gmail inbox, and that you would like to remove it so that you can view more of your emails in the inbox at one time. You will have the option of removing that preview panel entirely, or moving it to the right side of the inbox.
Step 1: Go to your Gmail inbox at https://mail.google.com and sign into your account if you haven't done so already.
Step 2: Click the downward-facing arrow to the right of the Toggle split pane mode button above your inbox.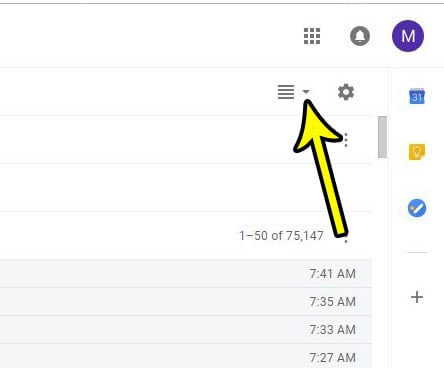 Step 3: Choose the No split option from the list of reading pane views.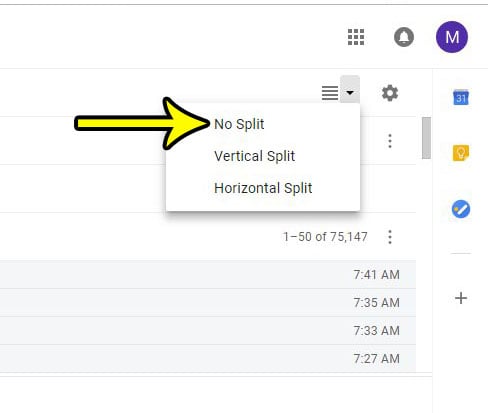 Your inbox display will refresh right away, and you will no longer have the section at the bottom of your inbox, allowing you to see more of your email messages in your inbox.
Now that you have your reading pane situation figured out, you may want to change some other things about the way your inbox looks. Find out how to change the view in Gmail if you would like to adjust the appearance of your inbox.