If you don't always use the same device, being able to see and respond to text messages from numerous devices is essential.
Fortunately, you can configure your iPhone to receive these messages on other Apple devices, such as an iPad, iPod Touch, or even another iPhone.
Continue reading below to learn more about how to forward text messages on IPhone 13 and start using this helpful feature right away.
If you just want to forward a single text message to someone on your iPhone, then you can tap and hold on the message, choose More, tap the Forward button at the bottom-right of the screen, then enter the contact name or phone number into the To field and tap Send.
How to Enable Text Message Forwarding on an iPhone
Open Settings.
Select Messages.
Choose Text Message Forwarding.
To forward text messages, tap the button to the right of the device.

Our article continues below with more information regarding text forwarding iPhone choices, including screenshots.
Your iPhone can send text messages as well as iMessages. It can send text messages to anyone who has a device that can accept SMS messages, or it can send iMessages to anyone who has an Apple device. If the iMessage service is down for whatever reason, it can even send a text message instead.
The iMessage service on your iPhone can also be accessed through other compatible devices that utilize the same Apple ID. This gives you an easy option to maintain text chats while using your Mac or iPad. But, you will only be able to receive iMessages on that Mac or iPad (rather than send and receive) until you enable a feature on your iPhone called "Text Message Forwarding."
Fortunately, you can enable this function in a matter of minutes and then continue all of your text conversations off of your iPhone, including those with folks who aren't using an Apple device.
There are several methods for sending text messages via email. We will discuss these options in teh guide below.
Text Message Forwarding Enabled in iOS 10, iOS 11, and iOS 12
The procedures in this post presume you have two iOS devices with the same Apple ID. You should be receiving iMessages on both of these devices by default. The instructions below will allow you to send and receive text messages on both devices. You can tell the difference between text messages and iMessages by the color of the text bubble.
A green bubble is a text message, while a blue bubble is an iMessage.
The first section of this article gives a high-level overview of how to enable this forwarding. Continue scrolling for additional information with images.
Text Forwarding iPhone Instructions with Images
This method was completed on an iPhone running the iOS 12 operating system, however these steps are still applicable to later iPhone models and newer versions of iOS, such as iOS 15.
Step 1: Launch the iPhone Settings app.
Step 2: Scroll down and click on Messages.
Step 3: Choose Text Message Forwarding.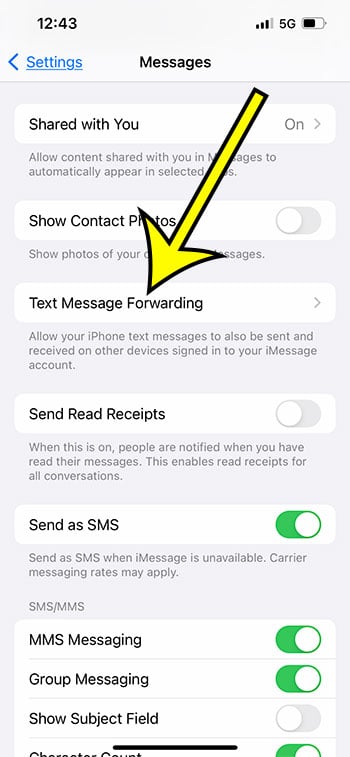 Step 4: Touch the button to the right of the device that you want to use to receive and send text messages.
Note that if you don't have two-factor authentication enabled, then you will need to get an activation code from the second device and enter it on your iPhone.
You can now receive and send text messages from both of these devices.
Now that you know how to turn on text message forwarding on an iPhone, you might be wondering about some other activities related to this feature.
How to Send and Receive SMS Texts on an iPhone from a Different Device
Go to the Settings menu.
Launch Messages.
Text Message Forwarding should be selected.
Touch the device's right-hand button.
Get the device's activation code.
On your iPhone, enter the activation code, then tap the Allow button.
Now that you've finished up your text forwarding iPhone setup, you may have some additional questions about how it works.
Text Forwarding on an iPhone: Commonly Asked Questions
Can I send my text messages to another iPhone?
You can forward text messages from one iPhone to another by utilizing the Settings > Messages > Text Message Forwarding method that we outlined.
But, each of those iPhones must be signed in with the same Apple ID.
Can you forward text messages automatically?
Yes, you can send text messages automatically to other Apple devices that are signed in to iMessage with the same Apple ID as your iPhone.
You can check that this is set up by following these steps:
Go to Settings.
Choose Messages.
Go to the SMS Message Forwarding tab.
Choose the device for which you want to receive text message forwards.
Why isn't text message forwarding available on my iPhone?
If you don't see a text message forwarding option when you visit the Messages menu, you may have to toggle the iMessage option on and off. You can do it by following these steps.
Go to Settings.
Choose Messages.
Disable iMessage.
Reactivate iMessage.
Choose the Send & Receive option.
Check the box next to Use your Apple ID for iMessage.
Sign in with the Apple ID that you use on the second Apple device you want to forward to.
How can I transfer calls and messages from one iPhone to another?
You can forward texts by following the procedures outlined above, in which you enable text message forwarding in the Settings > Messages > Text Message Forwarding menu.
If you want to enable call forwarding, navigate to Settings > Phone > Calls on Other Devices.
You must then select the Allow Calls on Other Devices option and choose whether or not to allow calls on the devices mentioned below.
If you have a GSM cellular service, the Phone menu should also include a Call Forwarding option that you may configure.
If you have a CDMA cellular operator, you must contact them in order to use the Call Forwarding feature.
Is it possible for two phones to receive the same text message?
If you wanted to configure text message mirroring on two devices, you would need to utilize a third-party software in addition to the text message forwarding configuration that we detailed above, which allows you to transfer text messages to another Apple device that uses the same Apple ID.
As an alternative, you might use something like Whatsapp on numerous devices.
Our tutorial continues below with further information on how to forward a text message on an iPhone.
Additional Details on the iPhone's Text Message Forwarding Option
As you can see from the information above, there are some choices available if you want text messages from your Messages app to be sent to another device that uses the same Apple ID.
If you don't want this to happen with all of your MMS messages, or if you don't want to transfer SMS messages to other Apple ID account devices, you can forward messages on a case-by-case basis.
If you tap Messages, open the conversation, and then tap and hold on to the message you wish to forward, a pop-up menu with a few alternatives will appear.
If you click More from the bottom of that list, the message will be selected, and you can then press Forward in the bottom-right corner of the screen to send it to another contact or iOS device.
If your cellular operator enables Wi-Fi Calling, it is absolutely a feature worth considering, especially if your cellular service is poor at home or at work. You can turn on that option if you have it by going to the Settings > Phone menu.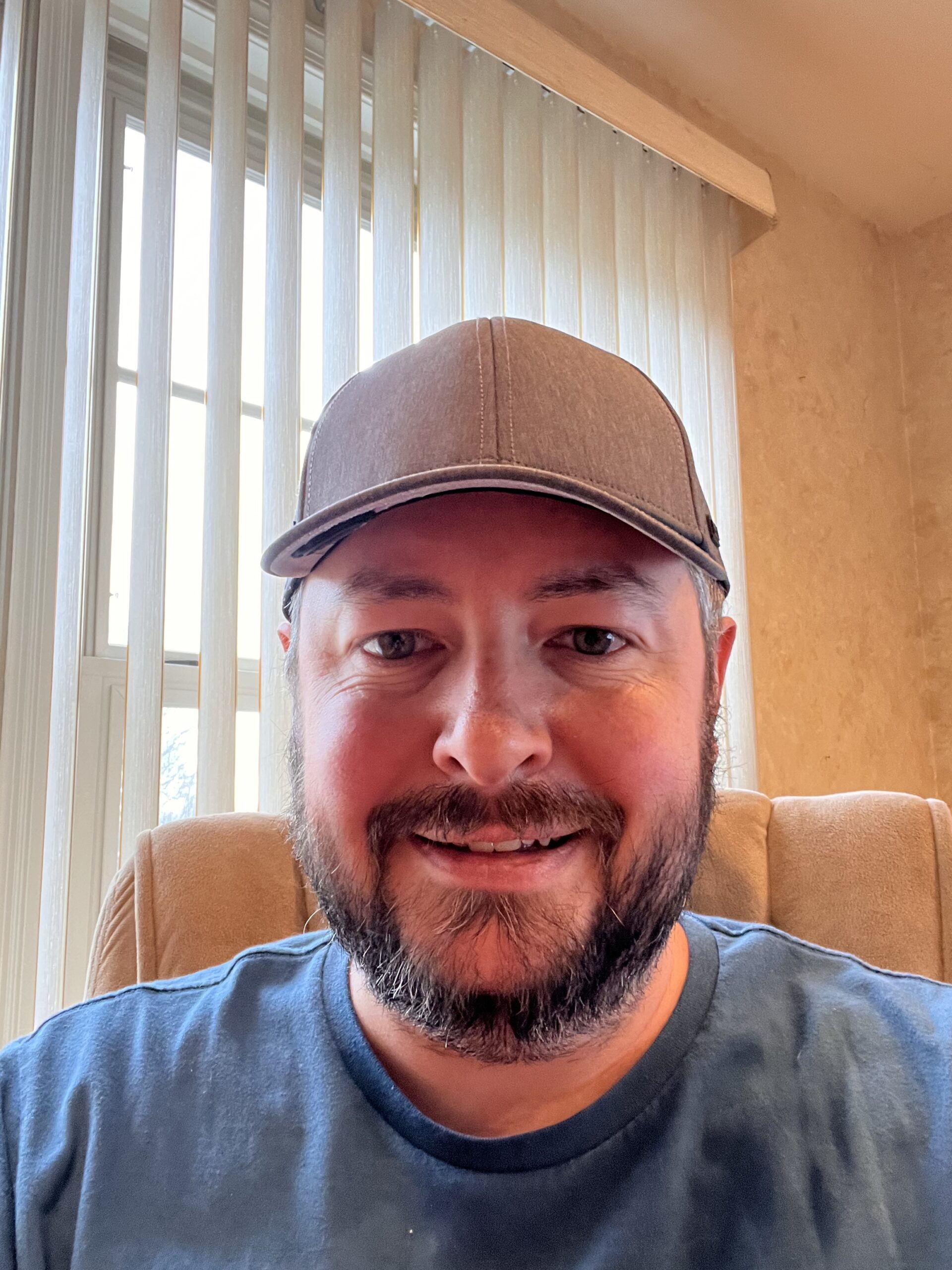 Kermit Matthews is a freelance writer based in Philadelphia, Pennsylvania with more than a decade of experience writing technology guides. He has a Bachelor's and Master's degree in Computer Science and has spent much of his professional career in IT management.
He specializes in writing content about iPhones, Android devices, Microsoft Office, and many other popular applications and devices.